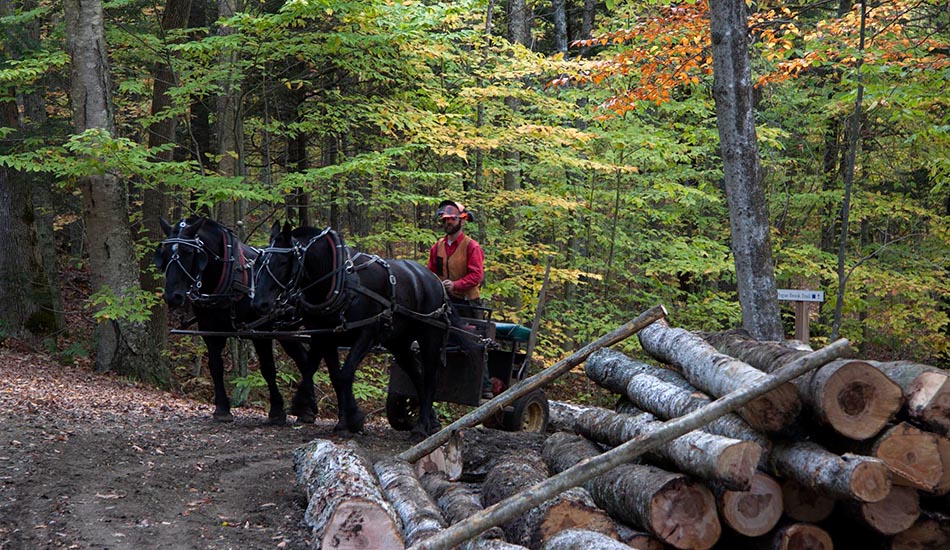 Pulling logs into the landing at Marsh Billings Rockefeller National Historical Park in Woodstock, VT.
Ben's experience operating equipment started at a young age on the farm he grew up on in Boxford, MA. Throughout high school he ran his own landscaping business as well as working for other contractors. Ben attended Clarkson University where he obtained a degree in Environmental Science & Policy, with a concentration in Environmental Engineering. During the summer months of his college years Ben was able to gain experience by participating in numerous internships. He worked on the "Big Dig" in Boston, spent a summer on a cattle ranch in Colorado working for the Nature Conservancy, and worked a summer for the U.S. Fish and Wildlife Service in northern New York reconstructing wetlands.
These experiences began to shape Ben's land ethic and after graduation he continued to gain experience in small-scale agriculture and began working with draft horses in farm and forest settings. Realizing that this was a career enterprise he wanted to pursue, Ben began seeking out mentors whom he could work with, to gain the necessary skills to become successful in this craft.
In the meantime, Ben met his wife Meg, and together they managed a few diversified small farms throughout Vermont. Once they felt they had gained enough hands-on experience to run their own operation, they began looking for a farm to purchase in central Vermont. The search took them a few years and during this time Ben worked for a couple of excavation contractors furthering his experience and saving some capitol to put towards a land purchase.
By the time they purchased their farm in Chelsea, VT, Ben had begun Canonica Landworks, Inc. and jumped into the self-employed world. He started out with small logging jobs in the winter and general excavation work in the warmer months. The excavation side of the business grew quickly after Tropical Storm Irene rolled through Vermont in the late summer of 2011. In its aftermath Ben was given the opportunity to work with landowners along the White River, helping to clean up farm fields, restore sections of riverbank and to help protect residences from future flood events.
It was through this work that Ben realized he could combine his experience & skills with his land ethic to perform meaningful and challenging work in ecologically sensitive areas. For the past few years, Canonica Farm & Forest Services has worked in New Hampshire and Vermont with various river conservancy groups, state and federal agencies, and landowners to implement these specialty projects in a timely manner, on a reasonable budget, using our high standards of workmanship.