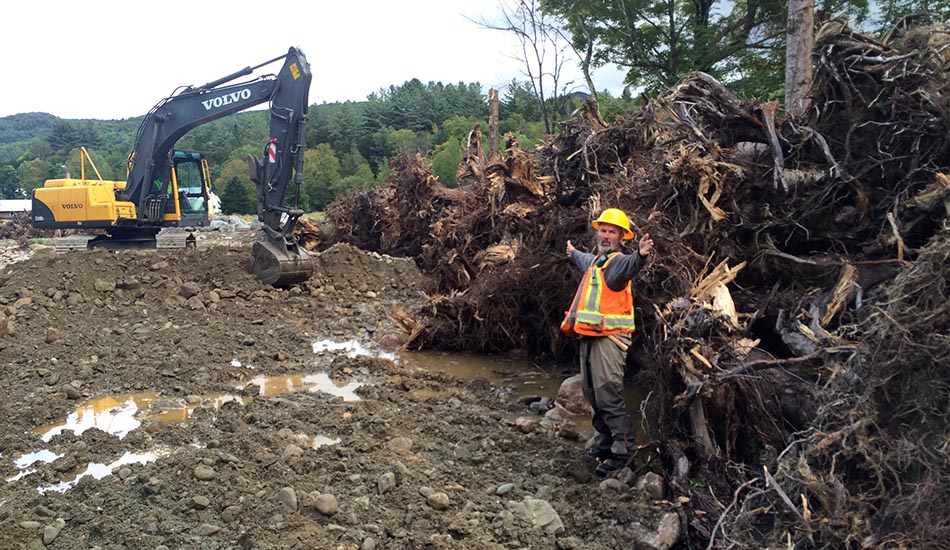 Excavating a pool at the base of an engineered log jam, while the engineer aligns the pool head to match the flow of the channel on the West Branch of the White River in Rochester, VT.
When I asked for "a breakwater wall" he looked up the river, that had raged thru the house the year before, and said "you mean, icebreaker wall?". He knew exactly what I meant, with his environmental science background, humor and intelligence – and built a thing of beauty to protect the old house from repeat Irenes. Ben is an artist and master craftsman. He wields really big machinery with amazing deftness. Watching him at work was something to behold. The final product is admired and commented on by many.
Peg Elmer Hough, AICP
Community-Resilience.org
♦
It is refreshing to work with a contractor who can listen to the engineers, biologists and land owners and manage to please all three. He's is a consummate professional and I would recommend him (and use him) for any project that takes finesse and has high environmental stakes.
Madeleine Lyttle, Fish Biologist
Lake Champlain Fish and Wildlife Resources Office
♦
The Connecticut River Watershed Council has been extremely pleased with the work and professionalism of Ben Canonica. He has done several stream restoration projects for us in both Vermont and New Hampshire. He is knowledgeable, conscientious, and easy to work with.  We highly recommend Canonica Farm and Forest Service to any organization doing stream restoration projects!
Ron Rhodes, North Country River Steward
Connecticut River Watershed Council
♦
Ben is an easy guy to work with. He quickly grasps the scope of the work allowing the landowner to leave and know that the work will be completed as outlined. He is honest, personable, and reliable. I would not hesitate to work with Ben again.
Geo Honningford
Owner of Hurricane Flats Farm, South Royalton, VT
♦
Ben worked on our property completing the cellar excavation, driveway, drainage, septic and retaining/stone wall.  He is a tireless and very thoughtful worker.  He is easy to work with and more than happy to explain his process and ideas while incorporating our visions. He communicates well and kept us updated.  He did a great job of keeping to a budget and working with contractors to stay on schedule.
Ben goes about each project in the most efficient way possible, always with the finished product in mind and often adding his own creative touch. His work is one of a kind.
We were ecstatic with Ben's work and would highly recommend him.
Coltere and Rebecca Savidge
Homeowners, Chelsea, VT
♦
I first worked with Ben in 2012 on a streambank restoration project along the White River. I quickly realized that Ben was not only prompt, reliable, and easy to communicate with, but also takes an active interest in the project implementation process. The nature of our work is often times complex and can be based on "feel", which requires patience and a lot of trial and error. Ben is not only patient, but actively collaborates in the process. Because of this, I view Ben as a go-to partner for active restoration projects.
Greg Russ
Project Manager, White River Partnership
♦
Ben at Canonica Farm and Forest Services provided quality workmanship, with a positive attitude. He completed a river restoration project to improve aquatic organism passage at two culverts including installation of rock weirs, rebuilding a natural river bottom, bank stabilization, pedestrian river access, and culvert baffles. The project was on-time, tidy, and executed with minimal impact to the river.
Jessica Clark Louisos, Project Engineer
Milone & MacBroom